Battles of Norghan
A downloadable game for Windows
Battles of Norghan is a classic, unique fantasy turn-based strategy game with RPG and team managing elements.
Imagine a football manager game with fantasy world creatures such as orcs, drakes and minotaurs and turn-based strategy battles instead of football matches. There's also spells to learn and use and equipment to buy along with training your team. This game has a lot of depth and replayability.

Recruit mercenaries from 22 different fantasy races and classes and manage dozens of fighters as they battle in a variety of different terrains against easy to highly intelligent AI or other player-controlled clans.
Train and hone each fighter's skill through monthly training as well as directly in combat. Build secondary skills such as dodging, shield blocking and dual wielding as well as attributes such as strength, intelligence, hit points, and magic points. There are 200 items and 42 spells available to equip your gladiators, including armors, bows, weapons, magical staves, and more! As each combatant grows with your clan they will age as well and eventually retire. Careful planning and management of your clan can ensure you never have an off season.
A complimentary steam key will be provided if you buy the DRM-free version here or at the official website (http://www.battlesofnorghan.com/).
14-DAY MONEY BACK GUARANTEE. Canceled if you choose to request a Steam Key. Otherwise you can get a refund for any reason.
Purchase
In order to download this game you must purchase it at or above the minimum price of $8.99 USD. You will get access to the following files:
Battles of Norghan Full Version
21 MB
-
Support this game at or above a special price point to receive something exclusive.
Battles of Norghan Gold Version
Download demo
Comments
Log in with itch.io to leave a comment.
Downloaded the demo. Will play when I have time. Looking forward to it.
I remember playing this way back (a demo, I think?) and really liked the idea.
Grabbed the game but sadly, it crashes whenever I try to run it. :(
Running Win 7 64-bit.
R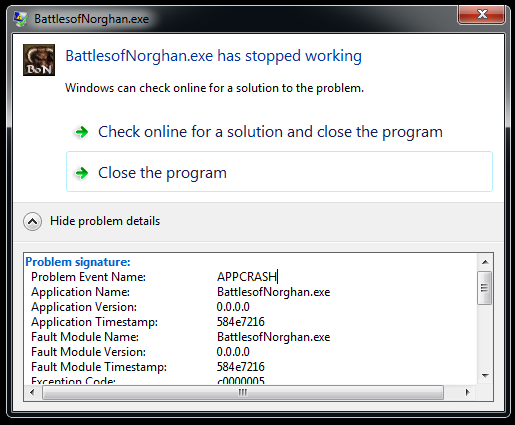 As silly as it may sound, try restarting your computer and then re-launching the game. That has worked in a lot of cases. Let me know if this doesn't help.
Strangely enough, it worked! The ol' "turning it off and on again". Been playing a bit and hope to write about it on the blog soon!

i have take it but its not the 1.12 (DL the 1.11), its possible to upgrade please ? thx
Right now only the Steam version has been updated from the 1.11 version to the 1.12 version. You should have access to the steam version if you bought the game. If one more person requests that the DRM-free version be updated as well, I'll update it.
Thx for reply but the way its to play with drm-free or why buy in this platform ? or close gog, itch and only buy in steam and his bisness...
Thx for your good game and improve, its fun.
(sorry for the bad english, its not my birth language)

The itch.io/DRM-free version has been updated to 1.12 version now as well.
since the game is available on steam by now, how do we redeem it over there? greetz and keep up the good work, kalle
Steam keys issued through the website where you bought it.